Black Friday predictions: what will we buy and where will we buy it?
2014 was the first year that retailers in the UK embraced Black Friday, with Asda leading the way in pushing its in-store price-busting discounts. But, things got messy. Dirty, in fact. Remember the video of a woman fighting off her 'fellow' shoppers as they tried to pinch her 40-inch TV?  Gosh that was entertaining. But, also a rather pitiful display of human greed.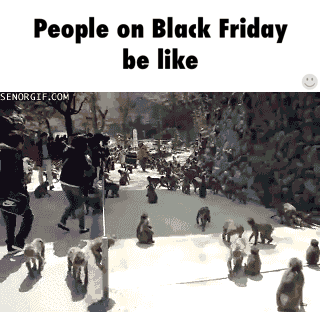 How will we shop in 2017?
Unsurprisingly, the years since have seen online sales shoot up, as shoppers avoid carnage on the high street. Instead, choosing to browse offers from the comfort of their own home.
This year, figures from the UK online trade association, IMRG, predict that £1.74 million a minute will be spent on Black Friday. If trends from previous years repeat themselves, sales will spike first thing in the morning before 9am. In total, the Black Friday shopping bonanza is expected to generate almost £10 billion.
2016 was the first year to see most Black Friday sales completed from mobile devices, with 51% of orders coming from smartphones or tablets. In 2017, the proportion of mobile sales is expected to increase again to over 60%.
What will we buy?
The Black Friday deals that get snapped up fastest are on electronics, such as TVs and tablets. However, it's likely this year will see some different gadgets fly off the shelves.
New gadgets likely to be discounted include:
Smart speakers
Amazon has already announced Black Friday price cuts on its Echo and Echo Dot smart speakers. But it's likely we'll see similar discounts popping up on the Google Home. To better understand how the two compare, check out our smart speaker comparison.
Smartwatches (including fitness trackers)
From Apple Watches to Fitbits, cool gadgets for your wrist are likely to be big sellers this Christmas. To give anyone who's in two minds about buying a smartwatch a nudge in the right direction, retailers will look to drop their prices.
Virtual reality headsets and games
Amazon has already placed the Sony Playstation VR in its pre-sale. In Amazon's offer, you get the VR version of Skyrim free when you buy Sony.
Buy for £249.99 >>
VR gaming in general, however, remains a bit of a luxury hobby. The Sony PlayStation VR isn't too costly, but other headsets like the HTC Vive are way too pricey for the average household. To make these top-end products appeal more to the masses, we could see retailers like John Lewis and Currys reduce prices on VR products.
App-enabled droids
App-enabled droids are often thought of as kids gadgets, but they have quite the following amongst adults too.
The miniature droids pair up with an app on your phone, which you can then use to control its movements and have it explore different places. It's going to be a top gift for gadget geeks this Christmas, so we have our fingers crossed some will come on sale on Black Friday!
Where will we shop?
Online retailers like to keep us on the edge of our seats when it comes to Black Friday. They'll never reveal too much too soon when it comes to the deals they're about to put on. But, based on Black Fridays gone by, we can make a few educated guesses about what each retailer will bring to the table.
Amazon
Amazon usually kicks off Black Friday early with a selection of taster deals, and this year was no different. You're already able to get 20% off a range of Amazon gadgets, including the Amazon Echo and Echo Dot.
Visit Amazon Black Friday Sale >>
John Lewis
John Lewis is a great place to buy expensive electricals, such as TVs, on Black Friday. What's more, in the past John Lewis has been very good at watching other retailers throughout the day and price-matching whatever they're offering.
Curry's PC World
Curry's is a bit hit and miss on Black Friday. Sometimes it comes out with eye-popping deals and other times leaves a lot to be desired. This year they happen to have some good deals on hoovers and coffee machines, in case either of these was on your list.
Carphone Warehouse
Carphone Warehouse has also launched its Black Tag deals already. To add a bit of excitement to your shopping spree, they're entering all customers in a prize draw, where you can win anything from an iPhone X to £10 million in cash!
Visit Carphone Warehouse Sale >>
Tesco Direct
Tesco offered discount codes at Tesco Direct back in 2015, which gave huge discounts on electrical gadgets. In 2016, its prices weren't as competitive, but who knows – maybe this year it'll make a comeback.
Black Friday is fab, but stay sharp
I have high hopes for this Black Friday. There are several gadgets out that would ordinarily be just outside of my budget, but which I'll hopefully snap up without breaking the bank. Also, it'll go some way towards making my Christmas that bit more affordable.
However, if you're planning to get stuck into the Black Friday bargains, keep your wits about you. Some retailers will make out they're offering massive discounts when in fact you'll be able to buy the product for the same price elsewhere. Rather than waiting until the day and buying on impulse, think carefully about what you need and research prices before sales go live.